Rare project, the perfect harmony of architecture and environment.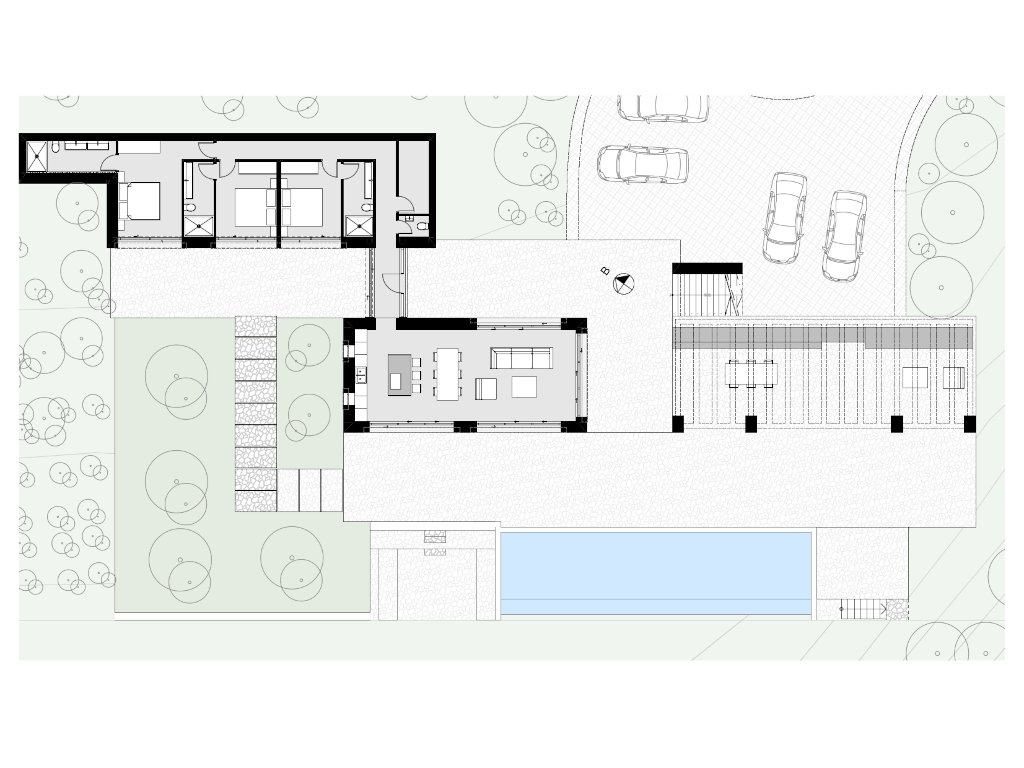 Aesthetics, ergonomics and functionality.
Location

Village

Town plan limits

Outside

View

View of the sea, the mountains and the sunset
Living Room

Yes

Fully Equipped Kitchen

Yes

Dining Room

Yes

Bedrooms

3

Bathrooms

3

Guests WC

1

Storeroom

Yes
Outdoor Living Room

Yes

Patio

Yes

Conversation Pit

Yes

Swimming Pool

50 m²

Garden

Yes with auto watering

Pergola

Yes

Outdoor Barbecue

Yes

Solar Shower

Yes

Parking

Yes
| | | | |
| --- | --- | --- | --- |
| Energy Fireplace | Yes | Air Conditioner (VRV) | Yes |
| Satellite | Yes | Solar Thermal Heater | Yes |
| Alarm | Yes | Cameras | Yes |
| Exterior Lighting (LED) | Yes | Energy Frames | Yes |
| Electric Shutters | Yes | Mosquito Nets | Yes |
| Wardrobes | Yes | WiFi | Yes |
Nearest Town

Preveza/25 minutes

Airport

Aktio Preveza
(PVK)/25 minutes

International Port

Igoumenitsa/45 minutes

Organized Ship marina

Preveza/25 minutes

Hospital/Health Center

Preveza/25 minutes, Ioannina/60 minutes

Supermarket nearby

Yes

Restaurants nearby

Yes

For Sale

Yes

Location

Artolithia

Property Type

Villa

Plot Area

2500 m²

Square Meters of Building

168 m²

Price

950.000 €

Taxes

info

• Property Transfer Tax:
1. For newly built houses VAT 24 % of the value written on the purchase contract.
(UNTIL THE END OF 2022 THERE IS A 24 % VAT EXEMPTION AND THE TRANSFER TAX IS SET AT 3 %)
2. For any other property, the property transfer tax is estimated to be 3 % of the value written on the purchase contract.
• Notaty's Fee: Set at 1,1 % of the stated value of the contract.
1 Land Registry: 0,475 % of the value written on the purchase contract plus VAT.
• Realtor's Fee:
1. Defined at the amount 2000€ plus VAT for properties priced less than 100.000€.
2. Defined at the percentage 2 % plus VAT for properties priced more than 100.000€.
BUILDING ENERGY EFFICIENCY
Artolithia beach is located on the shoreline of the Ionian Sea, in the center of the lacy shores of Parga - Preveza and is one of the most beautiful in the area. It has crystal clear waters and rich vegetation. Villas, restaurants, hotels, campsites, churches and seaside villages are spread along its entire coastline. Its ample space makes it ideal for relaxation and rest. Is the perfect place for those who love the beauty of nature and tranquility. Its view is unique, as its rocks in the sea adorn its beautifully colored waters along, as if they had been placed there by an artist. Looking at the horizon one can see the picturesque islands of Paxos, Antipaxos and Lefkada. It is near by to the calm beaches of Lygia and Kastrosykia, as well as the organized beaches of Loutsa, Vrachos and Kanali. The forest of Lekatsa and the castle of Despos frame a magnificent landscape that leaves no one untouched.